Once the player's character reaches level 20, the player can start using the Daily Sign-in Reward.
To access to Daily Sign-in Reward click the icon that resembles a Giftbox at the top right of the game window.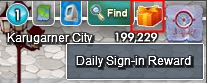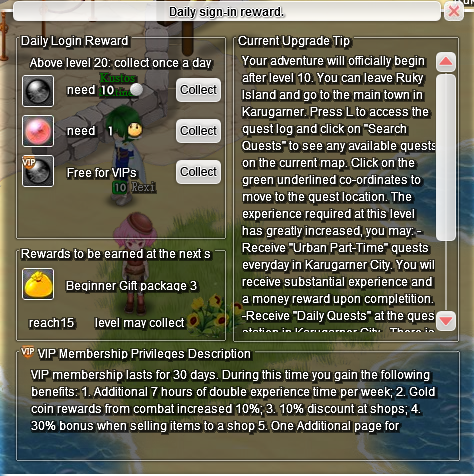 The Daily Sign-in Reward window shows four information boxes.
Daily Login Reward - At the level noted the player can collect an experience item/shard
Current Upgrade Tip - Game tips for what you can do at the characters level
Rewards to be earned at the next stage - Information on the next Gift Package the player will recieve and at what level they will recieve it.
VIP membership Privileges Description - Information on the VIP package (obtainable at the Mall)
Daily Login RewardEdit
Each day the player can collect three different types of Daily Sign-in Reward;
Money Reward - for a small amount of money the player can obtain an experience item
gPotato Reward - for a small amount of gPotato the player can obtain an experience item
VIP Reward - If the player is a VIP they can obtain an experience item
Money Reward
gPotato Reward
VIP Reward
Level
Exp
Cost
Exp
Cost
Exp
Cost
20
37,500
10 Silver
100,000
1 gPotato
37,500
None
30
100,000
20 Silver
150,000
2 gPotato
100,000
None
40
150,000
20 Silver
200,000
2 gPotato
150,000
None
50
200,000
20 Silver
300,000
2 gPotato
200,000
None
60
250,000
20 Silver
300,000
2 gPotato
250,000
None