Keyboard Shortcuts
Edit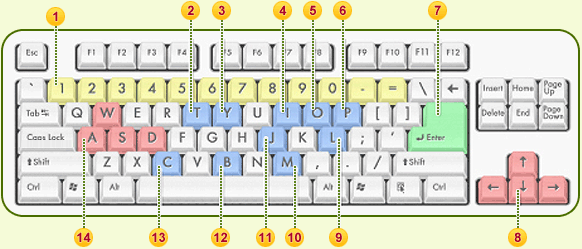 | | | | | | |
| --- | --- | --- | --- | --- | --- |
| Serial number | Function | Explanation | Serial number | Function | Explanation |
| 1 | 1~10 | QuickBar | 8 | Direction key | Character Movement |
| 2 | T | Party Invite | 9 | L | Quest list |
| 3 | Y | Opens the mailbox | 10 | M | Map |
| 4 | I | Skill Menu | 11 | J | Trade |
| 5 | O | Social Menu | 12 | B | Bag window |
| 6 | P | Pet Menu | 13 | C | Character Menu |
| 7 | Enter | Sending a message. | 14 | W, A, S, D | Character Movement |

You can move your character by Point and righ Click on where you want to go (be it at the normal interface or in the Map, given you don't have Big obstacles in the way), using the WASD keys or the Arrow keys.
Game Interface
Edit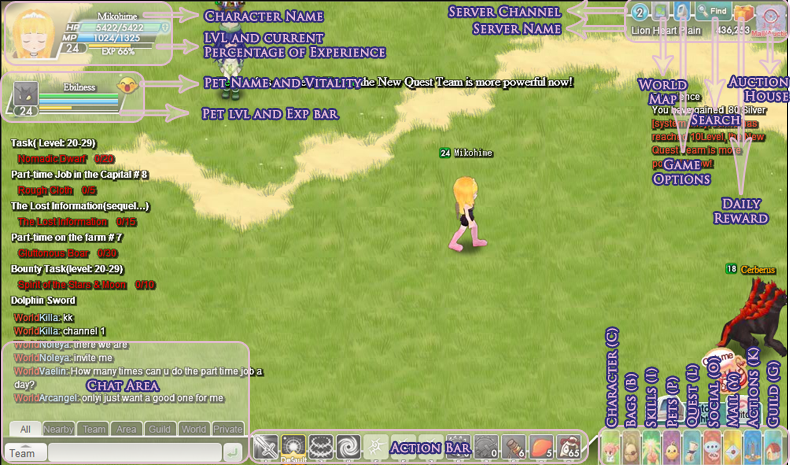 Character Information
Edit
Basic Skills
Edit
Basic skills are all equal to those of the same class, are learnt and added to your quick skill bar automaticaly.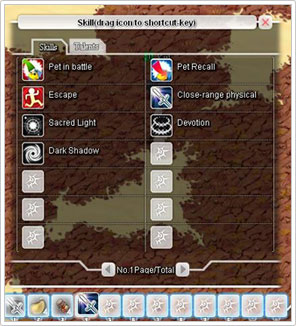 Talent trees
Edit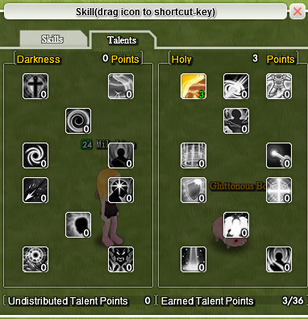 Each Class has 2 Talents, each Talent corresponding to a determined set of unique skills.
When you reach level 16, you can do your 1st Talent Quest, after which you'll get your 1st Talent point. Don't miss out on other quests from this category, 'cause this is the only other way you'll get Talent points, excluding lvl up.
Every each odd level after level 20 (aka: 21,23,25,27...) you'll get a Talent point which you can use to learn a certain talent (from 1 or both subclasses) if you have bought a Skill Book from your class Book Seller.
Class
Talent
Talent characteristic
Information
Warrior
Guard
Defender
Tank
Mars
Fighter
Damage Dealer
Mage
Ace
Ice mage
Ice Skills Master
Magic
Fire mage
Fire Skills Master
Priest
Holy Monster
Priest of the light
Supporting Class. High Heals and Buffs.
Darkness
Dark priest
Excels at dark magic arts.
Ranger
Freedom
Archer
Kitter (High Dex)
Rage
Marksman
Damage Dealer
Druid
Wildnature
Deceit
Pet Menu and Information
Edit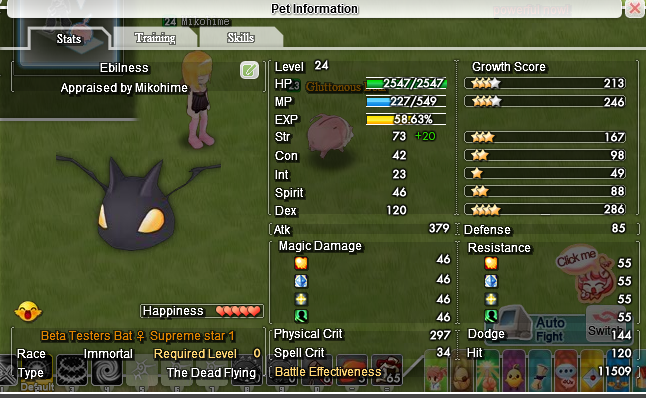 Battle Interface
Edit